We're noticing an interesting shift in the battery, electric vehicle, and power generation industries, reinforced by our recent interactions at The Battery Show North America 2018 in Novi, Michigan. After three days of speaking with experts from the fields of battery technologies, electric vehicles, and critical power, there is clearly a new wave of excitement surrounding power generation from electric motors.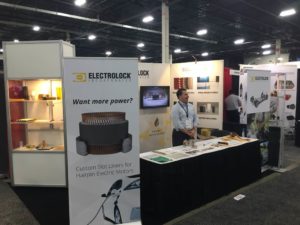 For 5 years, Electrolock has exhibited at The Battery Show in both Europe and the U.S., and we've witnessed change in this fast-moving industry. At this year's show, electric motor design and optimizing the electrification of vehicles attracted the most attention.
In the past, conversations about battery technologies dominated this show. And yes, investments in battery advancements certainly continue, including those to deliver improvements upon existing technologies, like longer battery life and faster charging. However, much of the focus this year centered around electric vehicle design, including the battery pack (safety), the electric motor (hairpin conductors), and the complete electric drive system.
As it relates to electric motors, significant resources are being invested towards new innovations to deliver more power, specifically in hairpin motor designs and technology. The transition from random wound motors to hairpin motors dominated our conversations on the exhibition floor this year. Roughly three-quarters of the visitors to our booth wanted to discuss slot liner design for hairpin motors and the insulation used on the hairpin wire itself. There is a drive for optimizing copper slot fill and the coinciding increase in power from the motor.
Many engineers are moving away from random wound motors to take advantage of the shape of the hairpin wire, optimizing the amount of copper that can fill the slot. A primary objective is to get more power from electric motors, particularly in the EV market. At Electrolock, these conversations focus on introducing slot liners into the production process, which represents a huge opportunity for our customers.
Electrolock's engineers are experiencing this shift in power first-hand. Our slot liner solutions and hairpin wire coatings help our customers achieve greater performance. Working in the field and on the production floor is what enables our engineers to come up with new solutions before the client asks, "how can we get even better?"
To learn more about our custom materials engineering processes, click HERE.